Workshop on Crop Science & JSPS Publicity in Kampala, UGANDA
更新日:2013/08/05
Co-Organized by Eastern African JSPS Alumni Association with NaCRRI.
Date; January 22 (Tuesday), 2013
Venue; JICA  Conference Center, Namulonge, Uganda.
On 22nd Jan-2013, JSPS held publicity seminar and Workshop at NaCRRI-JICA conference Center, Namulonge, Uganda.  The seminar was attended by about 20 participants mainly researchers from NaCRRI (National Crops Resource Research Institute).   This is the second time to have a workshops in Uganda by JSPS Nairobi and Eastern  Africa JSPS Alumni Association, hosted by the Alumni member(s) in Uganda.  On the aspect of qualified higher education, Uganda has been one of the leading countries in sub-Saharan Africa.  Though it's potential, the number of the Alumni members of EA JSPS is a few, we can expect more applicants of post-docs and other JSPS programmes from Uganda.  Owing to Dr. Andrew Kalyebi, who did his post-doc fellow in Tsukuba, Japan in 1990s, we got a chance to have this publicity meeting of JSPS programmes as well as joint workshop with NaCRRI, to which he belongs to now.
The welcoming remarks were done by Dr. Andrew Kalyebi who was the host and also the secretary of the EA JSPS alumni association.  The Prof. Shaukat Abdulrazak, chair, EA JSPS Alumni Association gave the opening remarks.
In his opening remarks Prof. Shaukat Abdulrazak urged the participants especially the upcoming researchers to be aggressive in research, innovation and technology especially in food production in East Africa. As the regional has the potential of producing enough food both export and local consumption. Emphasis on technology and innovation for local production should be prioritized in manufacturing of local products that will be readily available at local market and at affordable prices. He also urged the researchers to take advantage of the opportunities offered by JSPS in applying for more research initiatives.
The JSPS programmes were presented by Dr. Shiraishi Soichiro.  In his presentation about the JSPS programs, the JSPS Director, urged the participants not be scared by the  fear of the notion of cultural and language barrier of life  in Japan, since most of the programs are conducted in English.  And above all one can study some basics of Japanese language as an entry point to daily life situations in Japan.  He urged the researchers, academicians, scholars in Uganda and in the other countries in Sub-Saharan Africa at large to take the advantage of JSPS office in Nairobi, and more important to network in getting Japanese counterparts.  To do networking they should contact JSPS office or any JICA officer in their institution, or any Japanese officials in Embassy or other offices who will assist in networking.
Other than the above mention sources, the researchers can contact the alumni members in their respective countries for more information.  He made a request to those present to give the information to those who need in case they don't require it.
One of the main missions of JSPS Nairobi is the  for promotion of scientific exchange and research collaboration between JSPS and Eastern African researchers-Uganda, in all fields of humanities, social sciences and natural sciences.  The joint seminar conducted by NaCRRI and JSPS was meant for it, especially between Japan and Eastern African researchers-Uganda for upcoming researchers, moreover to develop a network and encourage scientific co-operation amongst the Association's members.  This was a stepping stone for future collaboration with JSPS, the researchers and research institutions in Uganda.
The presentations of the workshop are mainly focused on recent scheme of the science and technology in Uganda, and the recent activities and research outcome of NaCRRI.  the presentations were-Director, NaCRRI, presented NARO and Agricultural Research in Uganda. Dr. Yona Baguma- Head, Bioscience Centre, NaCRRI, presented an overview of Science and Technology in Uganda and Dr.Sophy Musaana, Head Horticulture Programme, NaCRRI presented Horticulture Research Activities in Uganda.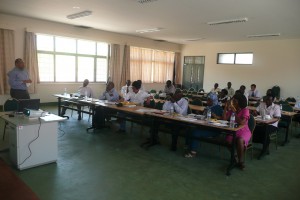 * * *
Programme
1)       JSPS Publicity Seminar
10:00- 10:10        Welcome Remarks   (Dr. Andrew Kalyebi, Executive Committee, EA JSPS Alumni Association/NaCRRI)
10:10-10:20         Opening Remarks   (Professor Shaukat Abdulrazak, Chair, EA JSPS Alumni Association)
10:20-10:40         Presentation by JSPS Director   (Dr. Soichiro Shiriashi, Resident Director, JSPS Nairobi Research Station)
10:40-11:00         Tea beak
2)       Workshop (Presentations)
11:00-11:30         NARO and Agricultural Research in Uganda.   (by Dr. James A. Ogwang, Director, NACCRI)
11:30-12:00         Science and Technology in Uganda: an Overview.   (Dr. Yona, Baguma, Head, Bioscience Center, NACRRI)
12:00-12:30         Horticulture Research Activities in Uganda: an Overview.   (Dr. Sophy Musaana, Head Horticulture Programme, NACCRI)
12:30-12:45         Discussion
Closing
Lunch
* * *
The National Crops Resources Research Institute (NACRRI), established in 1949 by the Empire Cotton Growing Corporation of Britain, is formerly Namulonge Agricultural and Animal Production Research Institute, one of the Research Institutes under the Policy guidance of the National Agricultural Research Organisation (NARO).
About the organization, see the website below
(Mr. Gabriel Ekalale Simoe; Secretary, JSPS Nairobi)
……………………………………………………………………………….
Links
NARO
http://www.naro.go.ug/index.html
NaCRRI