「ケニアのジェンダー、法、慣習」セミナー開催のお知らせ
更新日:2023/09/29
この度、在ケニア日本大使館にて「ケニアのジェンダー、法、慣習」に関するセミナーを開催する運びとなりました(英語・通訳無)。ハイブリッドなセミナーとなっておりますので、ケニア外からのご参加も心よりお待ちしております。直前のご案内となり恐縮ですが、是非ご覧下さいませ。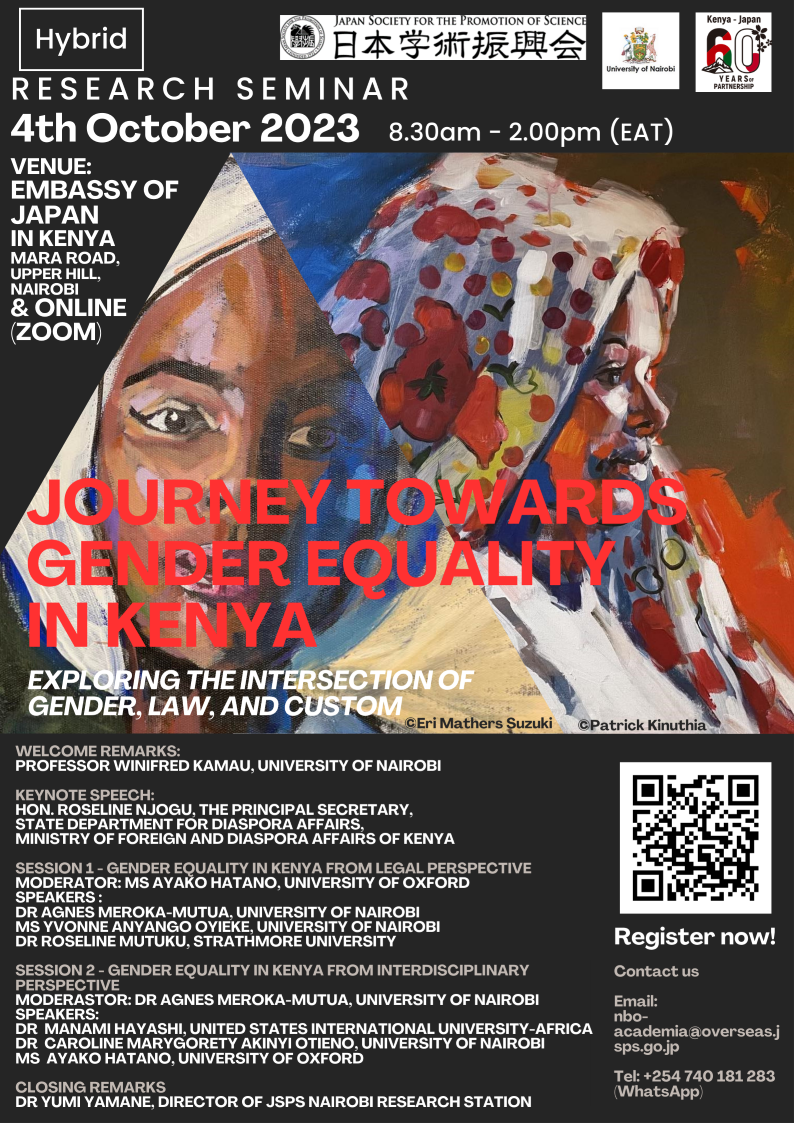 セミナータイトル
"Journey Towards Gender Equality in Kenya: Exploring the Intersection of Gender, Law, and Custom"
日時:(ケニア時間) 2023年10月4日8:30-14:00
日時:(日本時間)2023年10月4日14:30-20:00
会場:在ケニア日本大使館もしくはオンライン(Zoom)
ポスター(詳細)
参加登録
共催:日本学術振興会ナイロビ研究連絡センター、ナイロビ大学法学部、ナイロビ大学アフリカ女性研究センター
以下、詳細
~~~~~~~~~~~~~~~~~~~~~~~
Link to Poster
https://onl.la/JULDjz6
Research Seminar
Journey Towards Gender Equality in Kenya:
Intersection Between Gender, Law, and Custom
Date (EAT): 8:30-14:00, 4th October 2023
Venue:  Japanese Embassy in Kenya and online
Organised by: Japan Society for the Promotion of Science (JSPS)  Nairobi Research Station; Faculty of Law, University of Nairobi; African Women Studies Center, University of Nairobi
Objectives
The Gender and Law in Kenya Research Seminar aims to create a collaborative platform for researchers from Kenya and Japan, spanning both legal and non-legal disciplines, to engage in constructive dialogue on gender-related legal and social issues in Kenya.
This half-day seminar seeks to:
* Facilitate Knowledge Sharing: Provide a space for participants from diverse backgrounds, including law and non-law disciplines, to exchange research findings, insights, and experiences related to gender, law, and governance in Kenya.
* Promote Critical Discussions: Encourage in-depth conversations on key gender equality challenges, legal reforms, and the implementation of gender-responsive policies.
* Foster Networking and Collaboration: Cultivate connections and potential collaborations among participants interested in gender and legal issues in Kenya.
This Seminar welcomes researchers, practitioners, policymakers, advocates, students, and anyone passionate about discussing gender, law, and customs in Kenya. The condensed program focuses on critical aspects of gender and legal frameworks in Kenya, providing opportunities for meaningful discussions and engagement. By pursuing these objectives, the Seminar aims to contribute to ongoing efforts to enhance gender equality that empower women and marginalised groups in Kenya.
Program
WELCOME REMARKS:
PROFESSOR WINIFRED KAMAU, UNIVERSITY OF NAIROBI
KEYNOTE SPEECH:
HON. ROSELINE NJOGU, THE PRINCIPAL SECRETARY,
STATE DEPARTMENT FOR DIASPORA AFFAIRS,
MINISTRY OF FOREIGN AND DIASPORA AFFAIRS OF KENYA
SESSION 1 – GENDER EQUALITY IN KENYA FROM LEGAL PERSPECTIVE
MODERATOR: MS AYAKO HATANO, UNIVERSITY OF OXFORD
SPEAKERS :
DR AGNES MEROKA-MUTUA, UNIVERSITY OF NAIROBI
MS YVONNE ANYANGO OYIEKE, UNIVERSITY OF NAIROBI
DR ROSELINE MUTUKU, STRATHMORE UNIVERSITY
SESSION 2 – GENDER EQUALITY IN KENYA FROM INTERDISCIPLINARY
PERSPECTIVE
MODERASTOR: DR AGNES MEROKA-MUTUA, UNIVERSITY OF NAIROBI
SPEAKERS:
DR MANAMI HAYASHI, UNITED STATES INTERNATIONAL UNIVERSITY-AFRICA
DR CAROLINE MARYGORETY AKINYI OTIENO, UNIVERSITY OF NAIROBI
MS AYAKO HATANO, UNIVERSITY OF OXFORD
CLOSING REMARKS
DR YUMI YAMANE, DIRECTOR OF JSPS NAIROBI RESEARCH STATION
~~~~~~~~~~~~~~~~~~~~~~~
詳細につきましては、上記フライヤーをご参照ください。
みなさまのご参加を心よりお待ちしております。